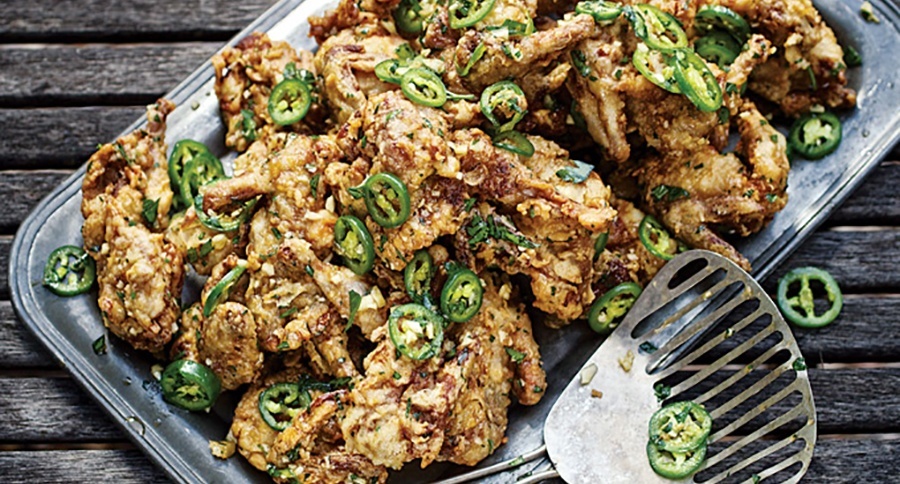 from texasmonthly.com
Ingredients:
12 whole doves, plucked and gutted
1 cup buttermilk
2 cups all-purpose flour
3 tablespoons unsalted butter
4 tablespoons honey
4 garlic cloves, finely chopped
3 tablespoons hot sauce
4 thinly slice jalapenos
1/4 cup fresh herb leaves, such as parsley or marjoram
kosher salt and freshly ground black pepper
oil or lard, for frying
Instructions:
Halve the birds, effectively removing the breastbone.
Soak the halves in buttermilk for 6 to 12 hours in the refrigerator.
Remove the birds from the buttermilk, season well with salt and pepper, and dip in flour.
Shake off the excess flour and refrigerate them for at least half an hour.
Heat a few inches of oil to 375 degrees in a fryer or large pot.
Melt the butter, then combine it with honey, garlic and hot sauce in a large bowl.
Fry the birds in batches until golden brown and crisp, approximately 3 or 4 minutes.
Drain on a paper towels.
Toss the fried birds with the melted butter mixture, add the jalapeños and herbs.
Serve immediately.