Intro to Fishing
Learn to fish from the professionals by completing the official Raised Outdoors Intro to Fishing Online Course.
Why Choose this Course?
Learn from Real Fishing Professionals
This course was developed by the expert anglers at Raised Outdoors. A successful day on the water is the result of proper equipment, planning, and technique. In this course, you will receive the most comprehensive fishing instruction available anywhere!
Easy Learning System
Videos and photos are included throughout the course to make information easy to learn and retain.
The Fastest, Easiest Way to Learn How to Fish
Easy, self-paced learning wherever you want it. The lessons are engaging, and the course saves your progress wherever you leave off.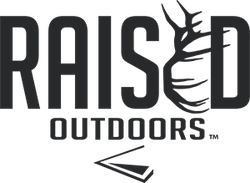 Raised Outdoors-Developed and Approved
Raised Outdoors deeply believes in respect for the outdoors and for other people and developed its platform to teach ethics and values through outdoor activities. The platform helps outdoor enthusiasts share their passion, knowledge, and stories with others. Raised Outdoors is pleased to join Today's Adventure as your guide to successful fishing, and we know you're going to find the experience enjoyable and rewarding.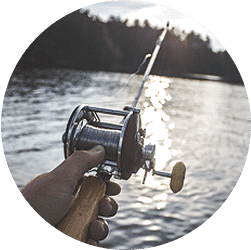 You already have your own motivations for learning to fish and some sense of the rewards ahead. Intro to Fishing was developed by expert fishing educators to help you take the next step in your journey.
Whether or not you've been fishing before, our aim with this course is to show you the way, answer any questions you may have, and help you find success on the water.
---
Learn How to Fish Successfully
How to Tie Fishing Knots
One of the most intimidating components of fishing is—you guessed it—knots! Don't get too tied up about learning this skill (pun intended) because knots are not that difficult. With a little bit of practice, you'll understand the use and application of each knot. This course will teach you all of the angling knots you need to know to be successful.
Where to Fish
Knowing when and where to fish will influence the outcome of your next excursion. The when and where can vary depending on your target species. This course will help you understand fish patterns and behaviors that can assist you in locating fish throughout the day (or night). We'll also cover subjects such as how to use topography, current, and structure to guide your strategy.
Tips and Strategies
Fishing is a very popular outdoor activity—in the U.S. alone, over 49 million people take to the water every year to enjoy this classic pastime. There are many benefits to fishing, including social bonding, stress relief, and contribution to conservation. It can also be a great food source once you learn the tips and tricks of catching your dinner.
Here's a sample of some of the tips and tricks covered in full detail in the course:
How to cast
How to tie knots
Where to find fish
Understanding freshwater and saltwater fishing
Identifying different species of fish
Understanding safety while fishing
Learning about fishing regulations
Learning about handling and cleaning
Understanding fishing equipment such as fishing tackle
Identifying different types of rods and reels
Learning about lures, bait, and boats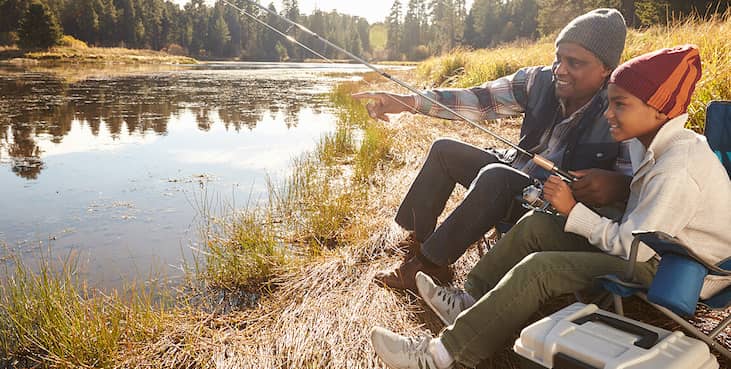 Freshwater Fishing
Do you prefer to fish from the shore of a river, stream, or pond, or would you rather fish from a boat on a lake? In either circumstance, understanding the species that live in these waters will help you determine the types of gear and line required to fish successfully.
Videos
Our fishing course videos feature a combination of professional instructors, entertaining storylines, and up-to-date scenarios that give you one of the most effective ways to learn safe fishing practices.